Cochrane UK has just published a new blog: Helping older people live well at home: mapping the evidence by Jo Thompson Coon, Mary Fredlund, Abi Hall and Malcolm Turner.
This evidently cochrane blog features our published CCGAP evidence and gap map .
A  team from the University of Exeter write about evidence gap maps, a way of visually presenting an overview of the available evidence on health topics and showing where the gaps are.
Researchers Jo Thompson Coon (Co-director of CCGAP)  and Mary Fredlund summarise the key messages from a map on home-based health and social care and mobility interventions to improve the functional ability of older adults living at home, relevant to researchers, health care professionals and patients.
Physiotherapist and researcher Abi Hall explores how she has used the evidence and gap map in her clinical practice, and public collaborator Malcolm Turner reflects on how the map could be used by patients and the public.
You can read the blog here: : https://www.evidentlycochrane.net/helping-older-people-live-well-at-home-mapping-the-evidence/
Thank you to Cochrane UK , the blog team and the authors.
Find  the  interactive EGM here.   
You can also read the original EGM report here and download the plain language summaries (English and Portuguese).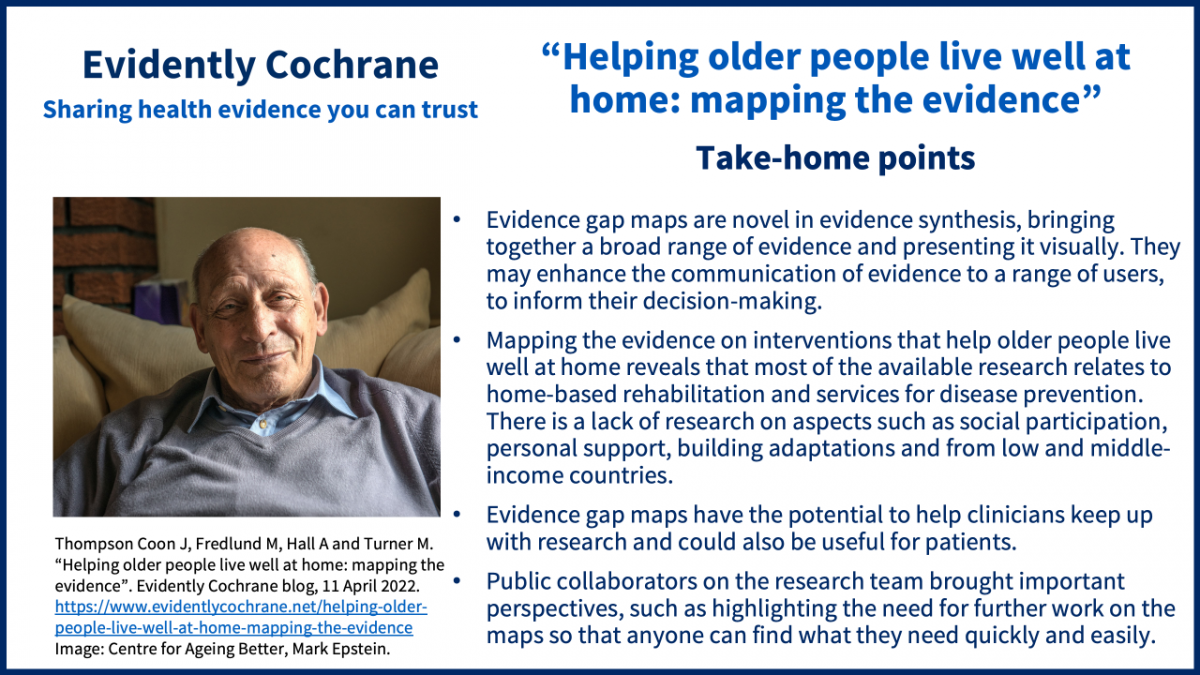 Blogshot produced by Cochrane UK.